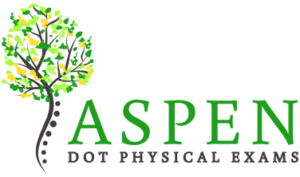 ---
What makes Aspen DOT Physical Exams different?
We are a family owned clinic, and we understand that your job is your livelihood. Our goal is to make these exams convenient and affordable for you, and get you back on the road, earning money for you and your family. It's important to us that every client is treated professionally, and with kindness and respect.
---
What does an exam cost?
We are offering a new client special for only $59.
---
How long will it take? What does it cover? Will I have to disrobe?
Exams generally take around 30 min from start to finish. Dr. Couser will review your health history and the medications you take on a regular basis. He will check your vision, hearing, balance and reflexes, and listen to your heart and lungs . He'll also be checking your blood pressure, as well as a urine analysis (looking for blood, sugar, and protein). Disrobing is not a requirement for the exam.
---
How often do I need to have an exam?
DOT medical certificates are good for either one or two years, depending upon your health.
---
How do I make an appointment? Can I just walk in?
Appointments can be made by phone at 303-669-2988, or use the "Schedule Appointment" link located at the bottom of this page. We are open on Saturdays, and after hour exams can be arranged by phone if necessary.
---
How do I cancel an appointment? If I do, will I be charged a fee?
We will not charge you a fee for missing your appointment. But, please do contact us as soon as possible, and let us know if you can't make it. If need be, we'll gladly help you reschedule for another time. 
---
How do I find your office?
Our clinic is located inside the Pesta Natural Health Center.
Our address is 6881 South Holly Circle Suite 204, Centennial, CO 80112
From I-25, exit Arapahoe Road, westbound. Turn left on S. Holly Street, then left on S. Holly Circle. 
---
What should I bring with me?
Please come prepared. You'll need your drivers license and if you wear eyeglasses, contact lenses, and/or a hearing aid, make sure to bring those along. In addition, have a list (or take a picture with your phone) of any medications you take and their dosages.